Find out the cost of creating your favorite web services with Drupal and compare it to the expenses on your project.
We have prepared several examples and workflows to show you the details of cost to develop a custom Drupal website, so continue reading to have all the necessary information and take the right business decision.
Let's see what you are engaged into. If you are a photographer, you definitely need at least a simple website with your portfolio and contacts. Do you need a professional Drupal website development company in this case? God, no! You can build one yourself! Choose a nice Drupal theme, watch some YouTube tutorials, and you'll master it. Graphomaniacs will find a bunch of blogging Drupal themes, companies in need of an ordinary corporate website may be satisfied with some ready-to-go Drupal options, and there are themes for e-commerce websites too. There are a lot of free and paid Drupal themes with prices varying from $20 to $250. So, if you choose to do everything yourself, the total cost for that will comprise hosting, domain name, the Drupal theme of your choice, and your time.
To save a couple of days, you can ask specialists to set up a website based on a Drupal theme for you. Price for that depends on the time spent by a developer, generally — from 2 to 12 hours, $54 to $324.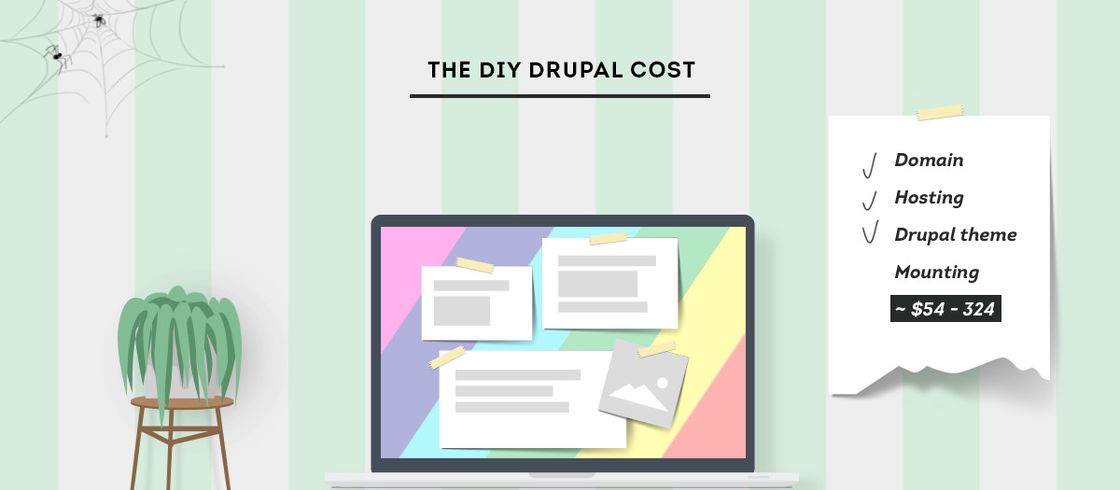 Opting for a website based on a ready Drupal template you must be sure it suits your business model perfectly. You won't be able to add a new feature or customize the existing one without the help of a professional Drupal developer.
Creating a promotional page on Drupal might seem an easy task as well, but beware — to make it really work you need a sleek design. Custom design means you need a designer, Drupal developer (front-end and PHP), quality assurance specialist, and project manager. This is a basic team for any Drupal development project with a custom logic and/or design. If you don't have a detailed project scope, a business analyst has to join this team to write one.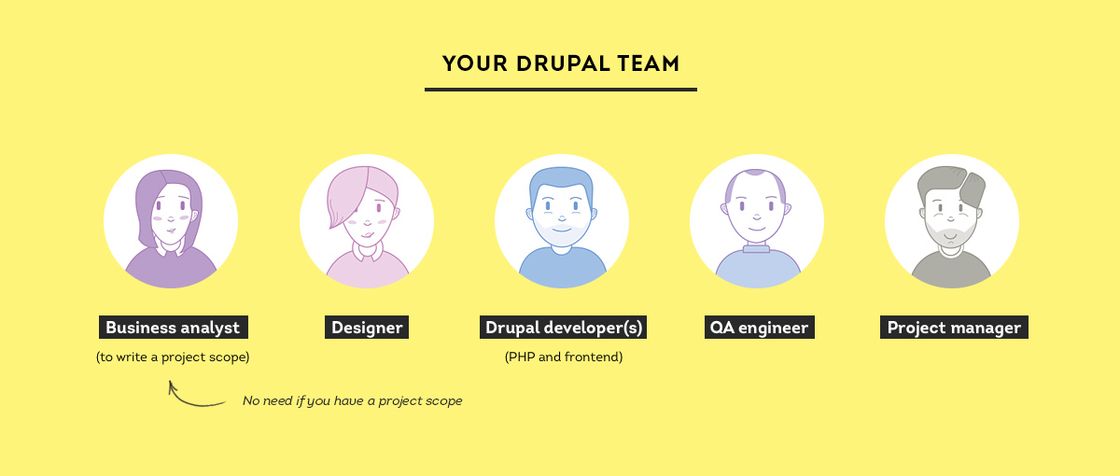 STAGES OF A CUSTOM DRUPAL WEBSITE DEVELOPMENT
It starts with defining your business plans and needs, making a project scope and custom design, estimating the team's work hours, and deciding which modules you might need.
Drupal modules are the extensions that add some features to the basic website. 99,9% of Drupal websites have modules inside. There are a lot of ready-to-use plug-ins, but in most cases you need to write a new one for your particular project. To learn more about Drupal modules, read our article "How Much Does It Cost to Develop a Drupal Extension?".
2
Design and development
At the second stage the UI and UX design is created, then we develop the Drupal website bearing in mind that it should be responsive and fast-loading to look nice on any device with any internet connection.
In the end, we need to check everything on a test server and only after fixing all the bugs you can deploy your new custom Drupal website to the production version.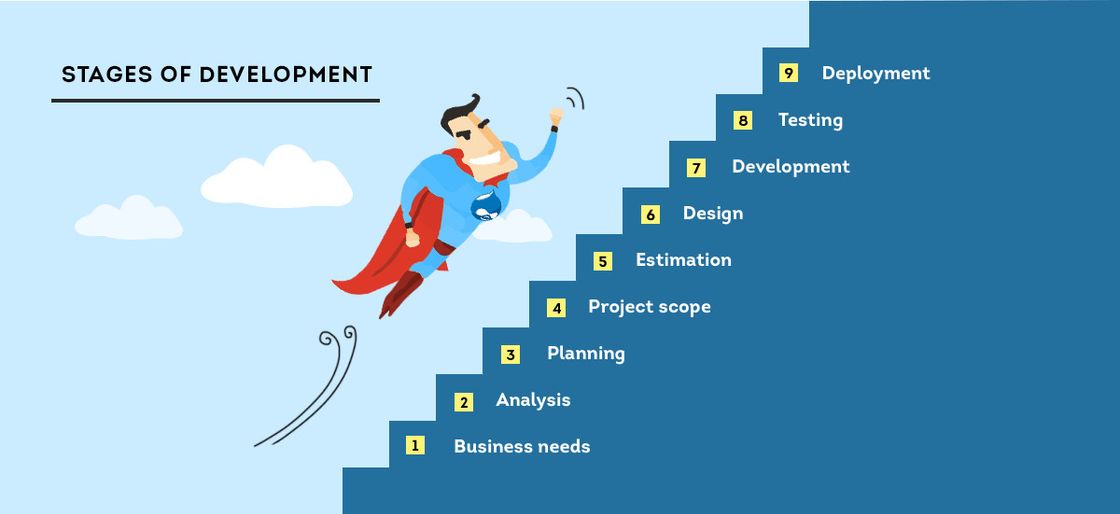 CUSTOM DRUPAL WEBSITE PRICE ESTIMATE
Let's proceed to answer the main question — how much does it cost to develop a Drupal website? As any other professional website cost, it depends on the complexity of the solution.
1
Promotional page for a mobile app
A promotional page for a mobile app like swarmapp.com will cost you around $900. Sometimes pages like this don't require a CMS at all, but if you want to edit texts or change prices, Drupal is the right solution.
2
Simple corporate website
3
Backend for a mobile app
Let's take an app you know well — Tinder :) Its backend can be made on Drupal and if there are such features as user management, content management, REST API, administration interface, it can cost $4500—6000. Not that expensive, huh? Maybe you should think of creating your own Tinder with blackjack :)
4
eBay-like e-commerce platform with various user roles
Yes, it is possible to build a new eBay with Drupal: divide into retailers and customers, let each retailer set delivery options and other terms, and so on. In fact, it is a mix of multiple online shops on the same platform. This is the most expensive option with price starting at $13 000—15 000.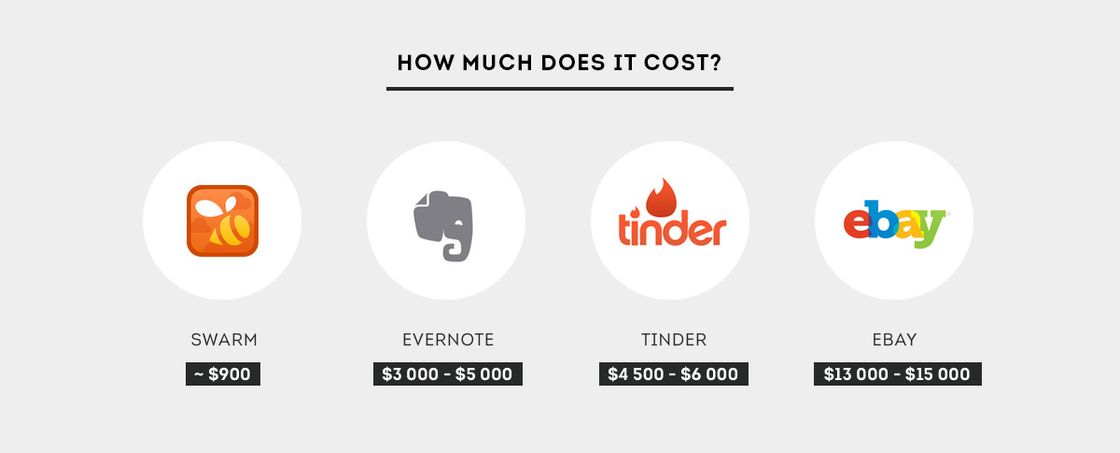 SELECTING THE BEST DRUPAL WEBSITE DEVELOPMENT SERVICES PROVIDER
Your partner in building your Drupal website is the key to its future success. There are multiple IT outsourcers who provide consulting and development services, so how do you select the best one for you? At Kultprosvet, we've been engaged in Drupal website design and development for many years and we have elaborated a few best practices that we want to share with you. Here are the marks of a decent Drupal development company:
They ask you about your business goals and plans.
They want not to sell you a Drupal website, but to find a right solution to suit your needs.
They create a detailed project scope and want you to approve it before the start of programming itself.
They think about expanding your business and chose the best scalable solutions.
They provide continuous technical support.
These are our rules of cooperating with clients. Contact us to find out how far your business can go with us.