PORTFOLIO
PROMARMATURA
Corporate website development for company engaged in the production of equipment for industrial enterprises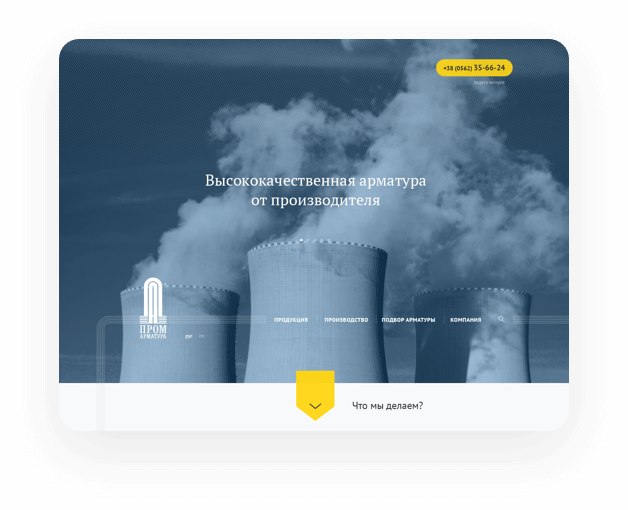 Promarmatura is a metallurgic wholesale retailer, one of the leading in the Ukrainian market.
Home page
They used to have a website, but it was a bit obsolete and didn't have what they wanted — a catalogue of products.
Industry categories
ОАО «НИИКАРБАМИДА»
ОАО "НИЖНЕКАМСКНЕФЕХИМ"
ОАО "ЩЕКИНОАЗОТ"
ОАО "АКРОН"
ОАО "ГРОДНО АЗОТ"
ОАО "ГОМЕЛЬСКИЙ ХИМИЧЕСКИЙ ЗАВОД"
ОАО "СЕВЕРСТАЛЬ"
АК "АЛРОСА"
ОАО "МАГНИТОГОРСКИЙ МК"
АО "АРСЕЛОР МИТТАЛ ТЕМИРТАУ"
АО "КАЗАТОМПРОМ"
ОАО "АК ТРАНСНЕФТЬ"
ОАО "ТАТНЕФТЬ"
РУП "ПО"БЕЛОРУСНЕФТЬ"
ОАО "НАФТАН"
ОАО "МОЗЫРСКИЙ
НПЗ" ОАО «УКРНЕФТЬ»
КАЛИНИНСКАЯ АЭС
РОСТОВСКАЯ АЭС
МОСКОВСКИЕ ТЭЦ-8,9,20,25,26
КРАСНОЯРСКАЯ ГРЭС-2
ЧЕРЕПЕТСКАЯ ГРЭС
So we had to goals: to create a modern, fresh-looking corporate website but still respectable, and to create a complex catalogue with smart filtration system which would comprise all the numerous production items Promarmatura has.
Interface details
To meet the client's requirements, we chose Drupal as a platform. Our engineers and designers worked hard to make the filters useful and simple for the potential clients of Promarmatura.
Production
We made a customized content management system with several levels of access. So, the Promarmatura managers can easily add new items to the catalogue without risking of spoil anything.
Product details
This project was interesting and challenging to me, because we had to build a website for a financial institution that should be reliable and safe, within quite tight budget. I'm proud we managed to organize the process in the way we could cope with all the hierarchy complications.
Liza, Account Manager
Blog