Over the years, the Ukrainian IT industry has gained attention and built a reputation far beyond its state borders. Throughout the COVID years, industry export has doubled, and by the start of the full-scale war, it has reached an all-time peak. Ukraine's office of foreign affairs reported that 100 out of the Fortune 500 companies built their software development R&D in Ukraine in Ukraine.
The formula for success here is quite simple – proper STEM education, strong working ethics and humble maintenance costs compared to teams from the USA, Great Britain, and Western Europe.
The war has disrupted the previously stable situation for offshore development teams in Ukraine, creating new risks. Despite this, our company in Ukraine not only survived, but thrived and gained new partners in 2022. The IT industry as a whole has demonstrated impressive resilience, maintaining some level of growth despite the ongoing conflict.
Why do startups and giants continue hiring IT talent and building dedicated teams in Ukraine despite a full-scale war?
01
We deliver no matter what
After a month of getting shit together and relocating to safer parts of the country or abroad, most of the IT companies reported having been back to a pre-war pace of work. We did so in two weeks.
Today there are relatively safe places in Ukraine, lots of them. What are they, – one could ask – bomb shelters? Sometimes, definietly. The most dangerous area goes along the Eastern Frontier, also russia often launches missile and drone attacks on pieceful cities. Russia is a terrorist state, yet now, when Ukraine got more powerful Air Defence Systems, fewer bombs and rockets end up hurting civillians and ruining residential areas of the big cities.
We are still dealing with energy shortages but that's not a big deal to equip one's working space with alternative power sources and Starlink. We did so, as well as most of the businesses around.
Anton Trakht, CEO at Kultprosvet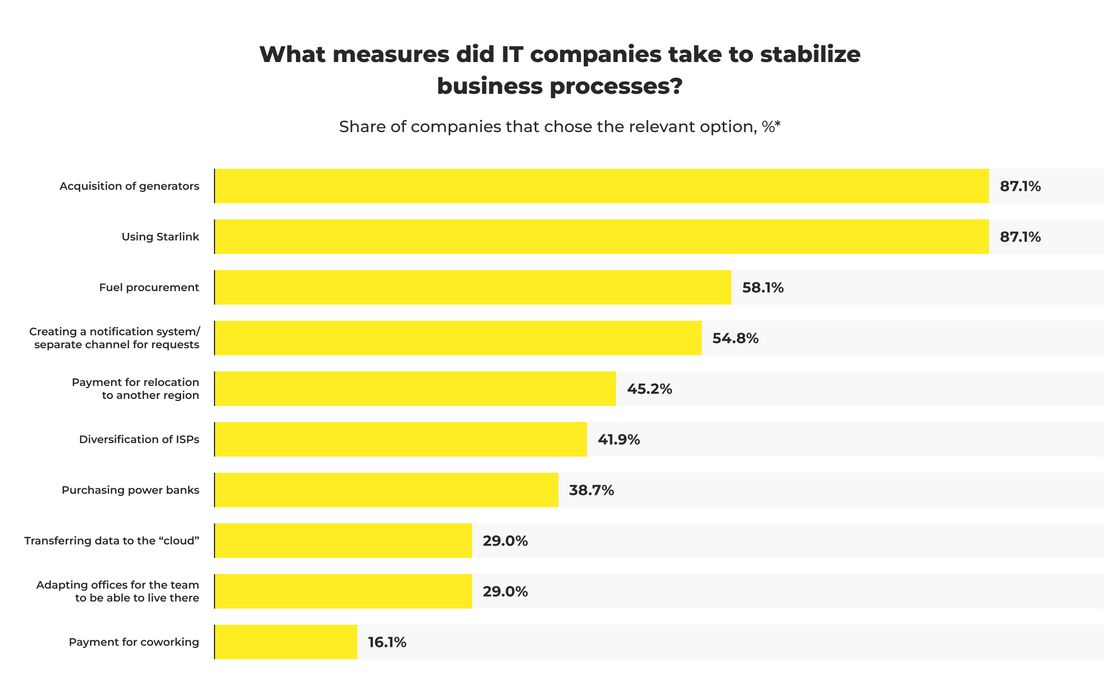 02
It's the best time to hire
Despite mobilization and relocation to safer countries, the Ukrainian tech talent pool is still on the rise. The industry acquired thousands of properly educated newcomers due to a mutual educational effort of the Government and business community. Fewer students graduated from the Universities with IT degrees though.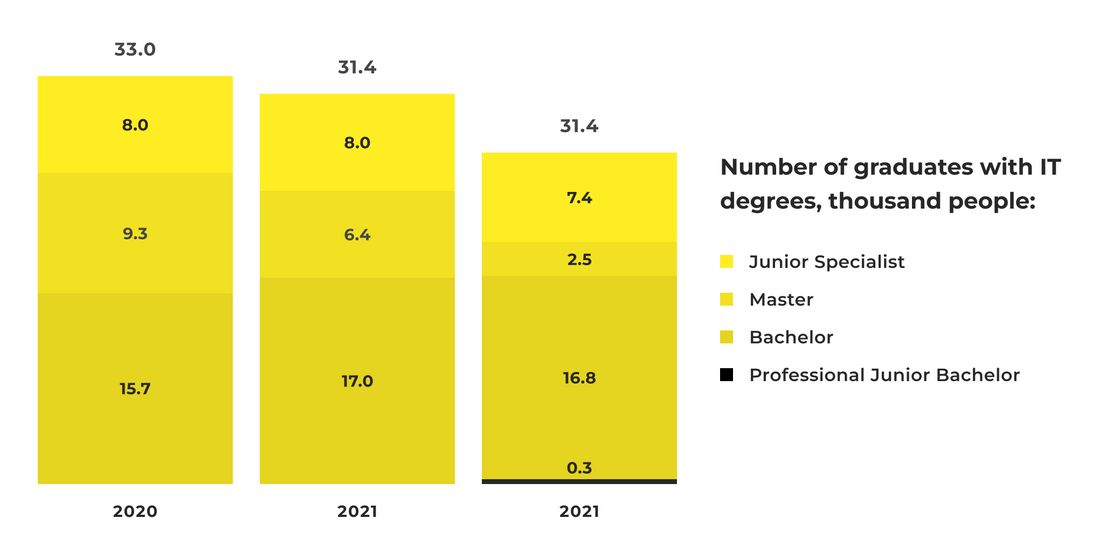 Rates are roughly the same as a year before, yet candidates are more receptive to new opportunities since fewer of them exist. Just look at the job postings at the biggest IT job portal in Ukraine.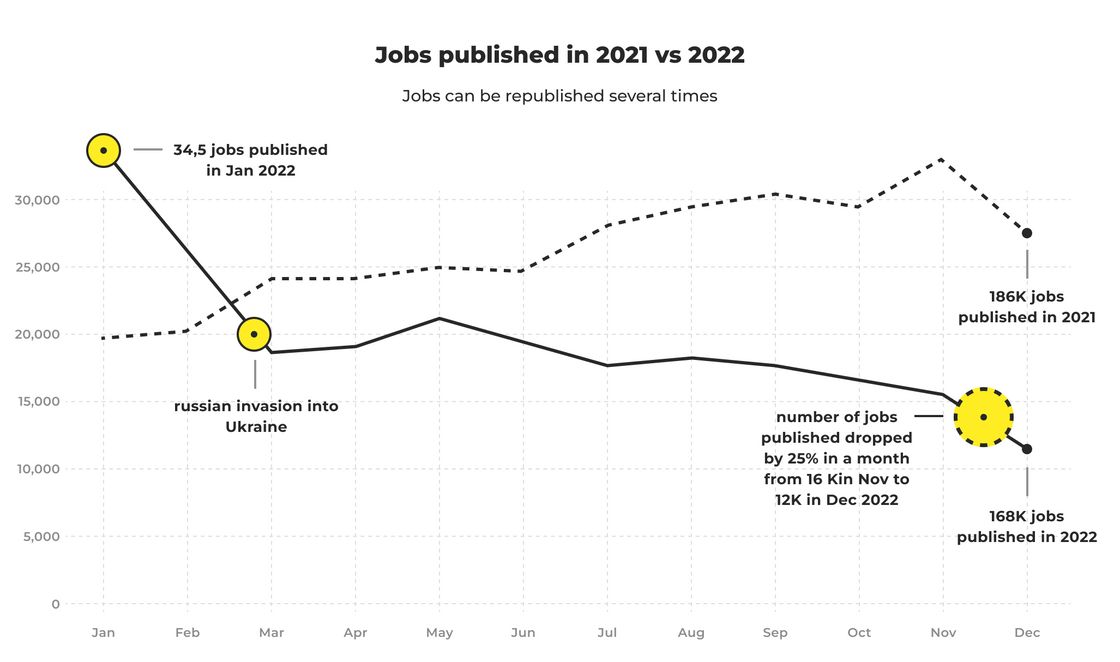 Companies are hiring less but with increased requirements, especially when it comes to English proficiency. The percentage of jobs that require an upper-intermediate or advanced level of English grew from 36 to 54%.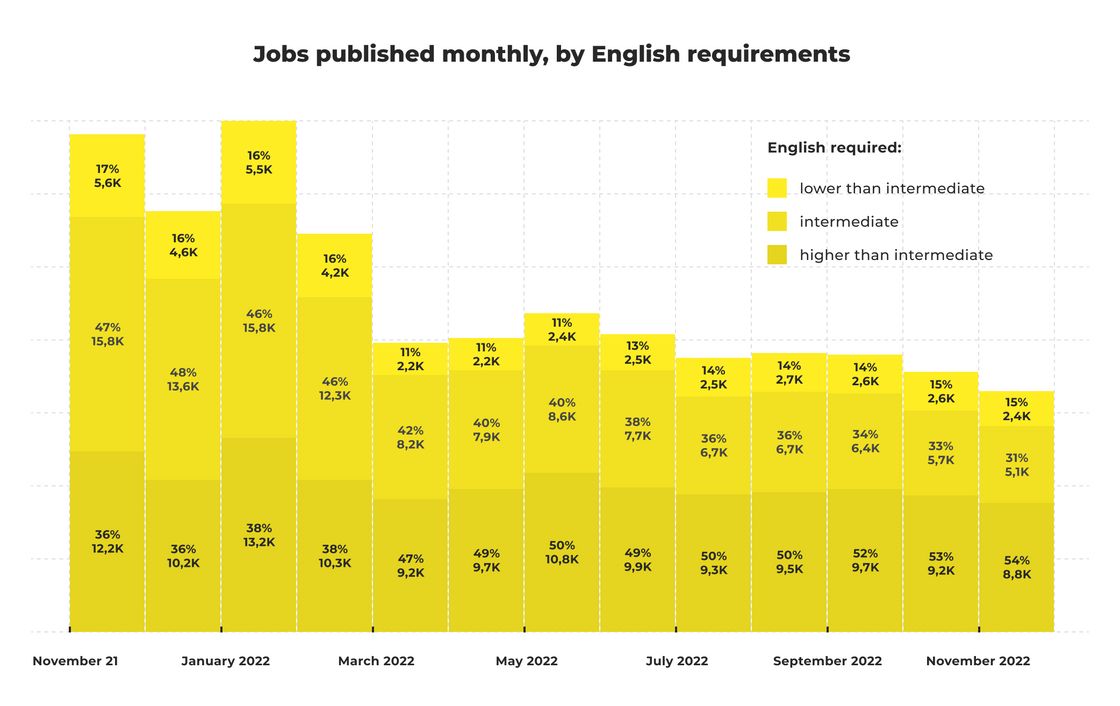 03
Supporting Ukraine is an ethical choice
By hiring Ukrainians businesses from around the globe tend to support Ukraine's economy which is in a state of the greatest recession ever. And against all odds, Ukrainian IT is the only domain which managed to grow throughout the year.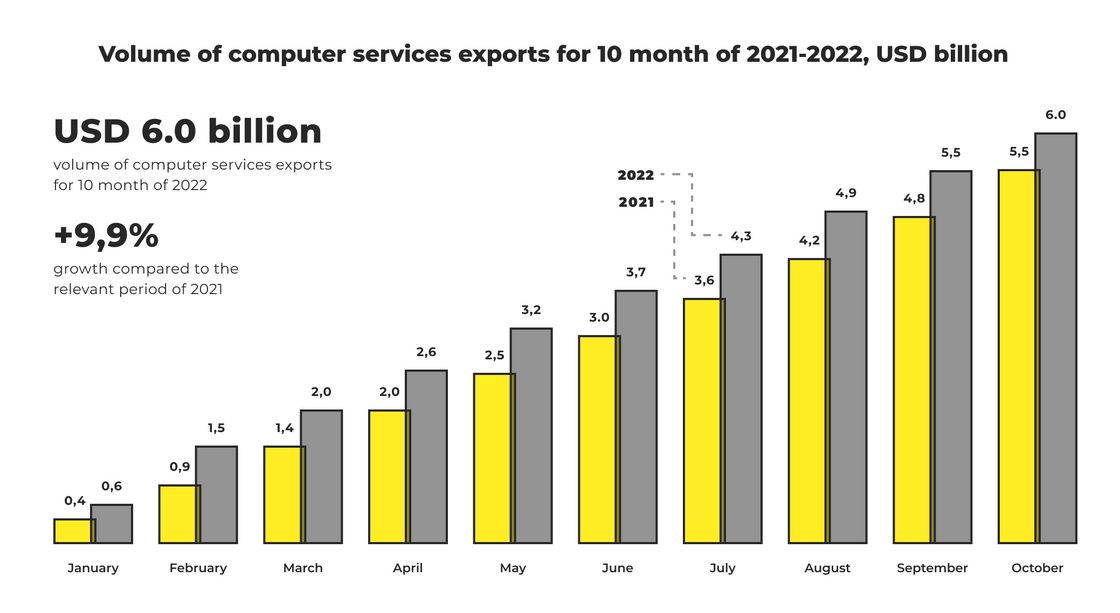 Despite the war, the Ukrainian IT industry has shown impressive resilience and even growth. Most IT companies resumed work shortly after the start of the invasion, and the tech talent pool in Ukraine continues to expand. According to a survey conducted by the IT Association of Ukraine, 34.3% of IT companies have effectively adapted to current conditions and over 43% anticipate business growth based on 2022 outcomes.
At Kultprosvet, we are also optimistic and hopeful for future success. Despite challenging circumstances, we have demonstrated our ability to deliver. We have adapted to the brave new world, successfully building five new dedicated teams and managing over 30 projects this year.
Although this outrageous war has lasted for almost a year, it shows no signs of ending soon. A marathon, then? We are ready to thrive. Contact us for a meeting to discuss your next project!