Dedicated team in Ukraine
Setup your own


Dedicated

team


with us.
100%
dedication to your tasks
What do we mean
by Dedicated team?
Dedicated team consist of software developers, project managers, and designers built for your by Kultprosvet office in Ukraine. This team is tailored for your needs and is 100% dedicated to your product only.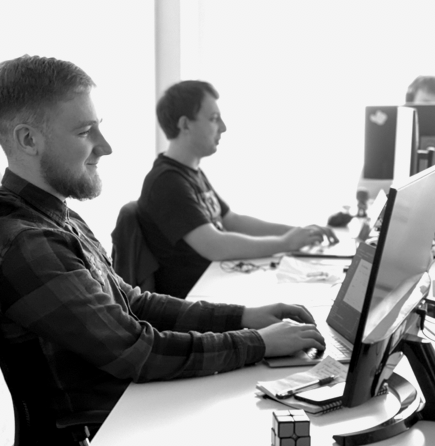 You need a Dedicated team if:
You have enough to do to provide the workload for at least 3 people (software developers, designers, project managers, etc.) on a permanent basis.
You need a team that will dive deep into understanding your product's specifics without being distracted by anything else.
You look for the best cost/quality ratio while considering offshore product development.
You want to focus on the production without digging into accounting, employment, payouts, recruitment, HR, and office environment management.
You aim to hire people who are a 100% match for your required expertise and share your company's values.
Your goal is to set up your own production process.
It's important to say that the guys from Kultprosvet know how to look a few steps ahead. Anton Kalmykov helps us a lot by asking additional questions, suggesting solutions, reporting unforeseen risks and missed steps in the funnel. In other words, they take care of us and think for us - so that we can do business meanwhile.

Illia Boshnyakov , CEO at AIN.UA
Item 1 of 2
How it works?
After we discuss the amount of team members you need, and their required expertise, you will receive an estimated budget, based on developer's salaries. After signing the contract, we provide you with full assistance related to hiring process:
Recruitment
Interviews
Purchase of equipment
When the potential candidates are approved, we take care of all your team's daily needs:
Take care of employment, accounting & payroll, recruitment, HR etc.
Provide a working space in our office
Organize off-work activities, parties, entertainment
Your team is now a part of Kultprosvet community when it comes to activities and office employment. But they remain fully manageable by you in terms of workload, task planning, and product goals.
We offer full assistance with regular qualification review for your employees, and will help you expand your team when you feel the need.
Pros of working with
Kultprosvet
You manage the team, we take care of the rest
Pre-evaluation of candidate by Kultprosvet's tech team leads
On-demand tech consulting for your tech product by our in-house senior specialists
Pricing
Our pricing model is simple and fully transparent:
Monthly budget
Employees
salary
KPS
fee*
* KPS fee depends on a number of team members.
Fill in the form to get a pre-estimate of your dream team's budget.